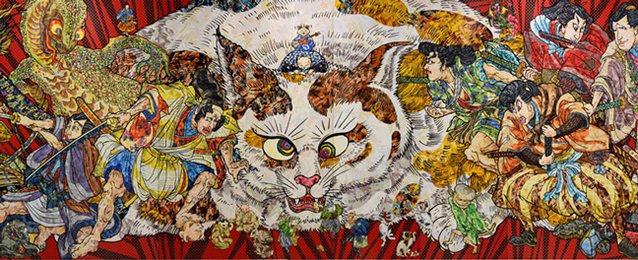 Japan supernatural
2 Nov 2019 – 8 Mar 2020
Location: Major exhibition gallery
Charges apply
Discover the stories behind the art
Listen to the audio experience
Discover a fascinating world in an exhibition like no other, featuring over 180 wildly imaginative works by Japanese artists past and present.
Step into the shadows and come face-to-face with an astonishing array of phenomenal beings in Japan supernatural, where ghosts, goblins and mischievous shapeshifters inhabit a spirit realm. See Japan's folklore brought to life in magnificent paintings, large-scale installations, miniature carvings and humorous illustrations, and explore the vibrant ukiyo-e woodblock prints that define the tradition of the supernatural in Japanese art.
Centred on a monumental installation of painting and sculpture by Takashi Murakami, the exhibition features some of the greatest Japanese artists of the past, including Katsushika Hokusai, Utagawa Kuniyoshi and Tsukioka Yoshitoshi, alongside contemporary artists such as Chiho Aoshima, Fuyuko Matsui and Miwa Yanagi, who continue the compelling creative lineage of visualising the unseen.
Don't miss this unique Art Gallery of NSW curated exhibition: an experience unlike anything in this world. Presented in collaboration with the Sydney International Art Series.
A selection of light-sensitive works of art will be rotated during the exhibition.
From 9 January 2020 Hokusai's rare woodblock prints The ghost of Kohada Koheiji and The ghost of Oiwa (Oiwa-san) from the series One hundred ghost stories (Hyaku monogatari) will be replaced with The mansion of plates (Sarayashiki) and Memorial anniversary (Shūnen) from the same series.
Tickets can be used once, anytime the exhibition is open.
$25 adult
$22 concession
$18 member
$62 family (2 adults + up to 3 youths)
$12 youth (12-17 years)
Free for children under 12 with full paying adult/concession
$2 transaction fee applies online
Also available
Multi-entry ticket
$45 adult
$40 concession
$35 member
Only available at the Gallery
$7 student (booked school groups)
Sydney International Art Pass
See Cornelia Parker at MCA as well and save!
Buy Art Pass now from Qtix
Image: Takashi Murakami Japan Supernatural: Vertiginous After Staring at the Empty World Too Intensely, I Found Myself Trapped in the Realm of Lurking Ghosts and Monsters 2019 (detail), Art Gallery of New South Wales, Foundation purchase 2019 © Takashi Murakami/Kaikai Kiki Co., Ltd. All Rights Reserved. Photo: courtesy Kaikai Kiki