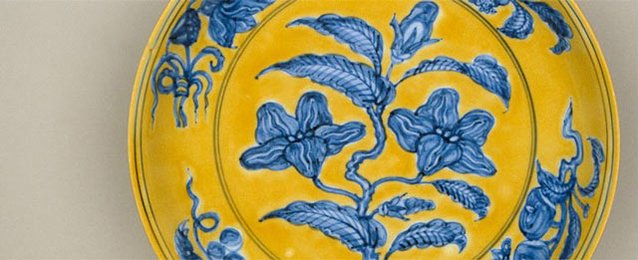 The connoisseur and the philanthropist
30 years of the Sternberg Collection of Chinese Art
31 Jan – 27 Apr 2014
Location: Lower Asian gallery
Free admission
A fine display of ceramics, stone and bronze sculptures, textiles and paintings from the Gallery's collection, acquired through the generosity of benefactors Edward and Goldie Sternberg and their friends.
After falling in love with Chinese art in the 1950s, Goldie Sternberg started donating works to the Art Gallery of NSW in the 1980s. In 1989, her husband, Edward Sternberg, proposed providing funds for the Gallery to invest, with the income used to buy Chinese art.
Since then, over 30 artworks in a wide range of artistic styles from the 1st century to modern times have been either gifted to the Gallery by the Sternbergs and friends inspired by their philanthropic spirit, or purchased with the Edward and Goldie Sternberg Chinese Art Purchase Fund.
Image: Jingdezhen ware Dish with gardenia spray design 1488-1505