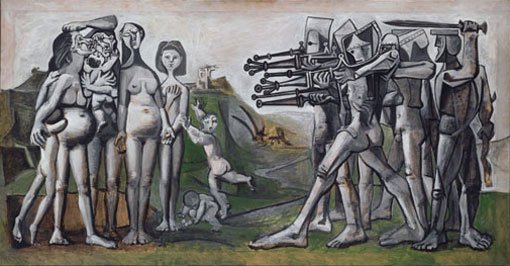 World War II to Korea: 1940–1951
Real death was outside, real fear grounded within, and Picasso's iconography narrowed upon it.
- art historian Leo Steinberg
In 1940 the Nazis invaded Paris. During the occupation, Picasso continued to work, albeit under the watchful eye of the German authorities. Many of Picasso's friends fled or were driven from Paris, including the writer Max Jacob who was interned and eventually executed in a concentration camp.
Capturing this atmosphere of tension and uncertainty, symbols of death, particularly the skull, pervade Picasso's work. While such mementos mori have a long history in Western art as reminders of our fleeting existence, the bare honesty with which they are painted and sculpted by Picasso transforms them into poignant emblems of the death and destruction of the war.
Where many of Picasso's earlier works depict the bull in conflict with a horse or matador, he now shows the bull alone, cast simultaneously as a symbol of strength and vulnerability. In one of the more whimsical appearances of this favourite motif, an old bicycle seat and handle bars are combined to create a dada-like assemblage resembling a bull's head (1942). In contrast, L'Homme au mouton (Man with sheep) 1943, one of Picasso's most ambitious bronze sculptures, is a powerful allegory of human fragility. It became one of only two sculptures by Picasso to appear in a public space in France (in Vallauris, near Cannes).
Throughout this period, Picasso's success continued to grow. Major retrospectives of his work were held in New York in 1939 and in 1944 at the first Salon d'Automne to occur following the liberation of Paris. Around this time he also met artist and writer Françoise Gilot, who later penned memoirs on her life with Picasso. Together, they had two children: Claude (born 1947) and Paloma (born 1949).
Massacre en Corée
Massacre in Korea
1951
Depicting an assassination by firing squad during the Korean War, this painting reveals Picasso's passionate objection to war and commitment to communism (he had joined the party in 1944). The composition is based on Francisco de Goya's well-known painting The third of May, 1808 1814 in which the two halves of the panel contrast the brutality of the perpetrators of war with the naked vulnerability of their victims.