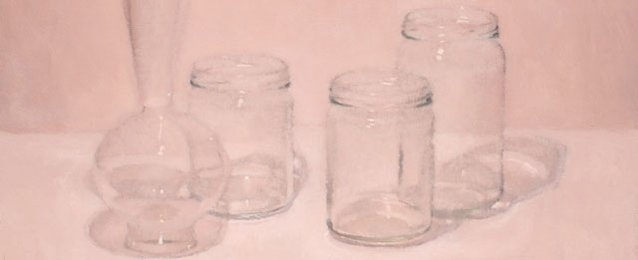 Brett Whiteley Travelling Art Scholarship 2013
19 Jul – 1 Sep 2013
Fri–Sun only
10am–4pm
Location: Brett Whiteley Studio, Surry Hills
Free admission
Tim Phillips, 22, from the ACT has won the 2013 Brett Whiteley Travelling Art Scholarship. Three paintings from Phillips' winning body of work are on display at the Brett Whiteley Studio in Surry Hills, alongside works by highly commended artists Dane Lovett from Melbourne, Victoria and James Drinkwater from Newcastle, NSW.
Begun in 1999, this scholarship for young Australian artists is now in its 15th year. This year's judges were artist Euan Macleod, Art Gallery of NSW director Michael Brand and the Gallery's head of Australian art, Wayne Tunnicliffe.
Phillips has won $25,000 and a three-month residency at the Cité Internationale des Arts in Paris, which is administered by the Art Gallery of NSW.
Fri–Sun only
10am–4pm
Free admission
Image: Tim Phillips Glass still life III 2013